1988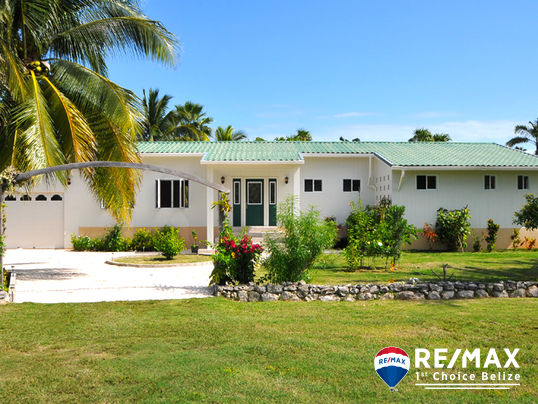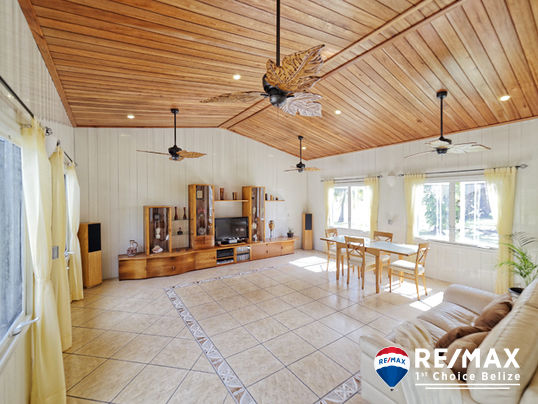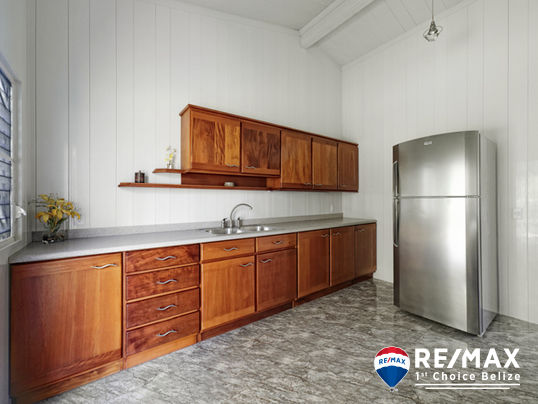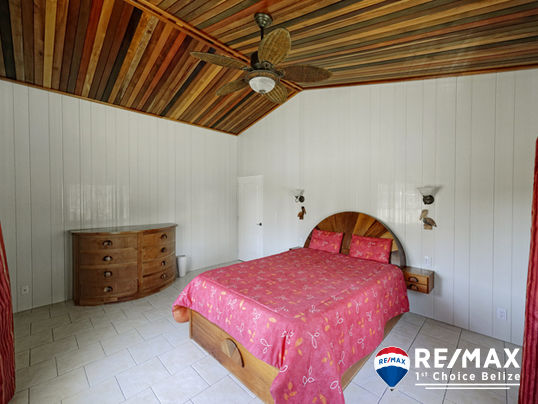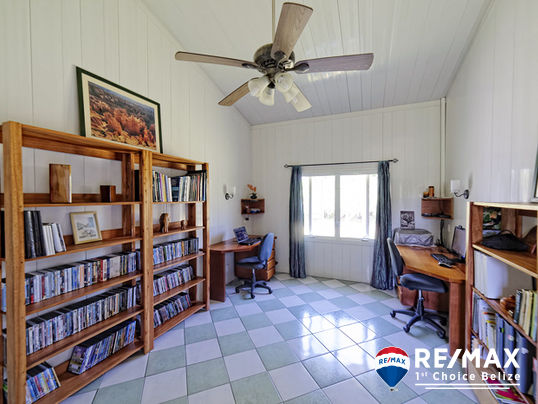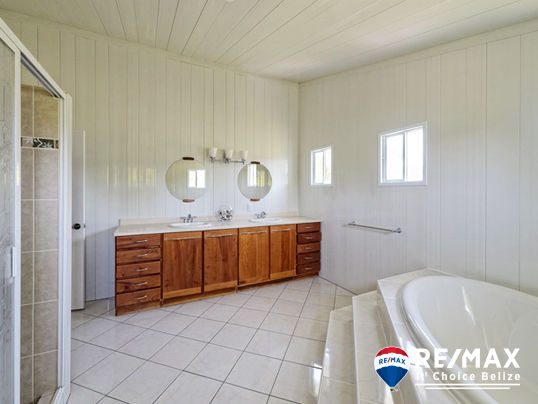 The property:
"CASA BLANCA"
Wake up each morning in your own private paradise to view the emerald green waters of the lovely Bay of Corozal!
This beautiful home and property is located in Consejo Shores, the oldest and most successful waterfront community in Northern Belize. Located on Corozal Bay, just 6.2 miles from the Town of Corozal, Consejo Shores is populated with over 100 homes whose owners have come from many countries around the world. There is a real sense of community here and many activities to keep you as busy (or not) as you like. The city of Chetumal, Mexico is just 2 1/2 miles by boat across the Rio Hondo, or a 45 minutes drive across the Northern Border.
Casa Blanca includes 1,475 square feet of enclosed living space plus a veranda and a garage totaling 1,873 square feet. It features a living/dining room, a separate kitchen, a bedroom, a den (or extra bedroom), a bathroom, a laundry room and a walk-in closet.
With its elegant architecture and well-designed layout, Casa Blanca combines harmony and functionality and offers you luxury and comfort with all the privacy you need. The house is fully furnished with premium-quality furniture and equipment. The rooms are spacious and tastefully decorated. They are all tiled in different colors, styles and patterns and beautifully finished.
Casa Blanca was designed to catch the tropical breezes and the main rooms are equipped with large screened windows. The house is wired for satellite television, telephone and internet and all electrical wires are inserted into the walls.
Casa Blanca was built with intense attention to detail, style, strength and durability.
A technologically-advanced Canadian building system was used for the walls, consisting of solid concrete encased in rigid and polymer forms. This easy-to-maintain product offers many advantages: no painting required, long-term durability (will not rust, corrode, stain, flake, peel or rot), superior sound and thermal insulating properties, superior indoor air quality (mold and mildew resistant), hurricane and earthquake resistant, fire resistant, pest resistant, ultraviolet radiation resistant, environmentally friendly, proven cost savings.
Features and amenities include:
Living/dining room: European furniture including a leather coach, a foldaway dining table with a glass top, a set of six chairs, a large piece of furniture with glass doors and shelves, recessed lights and rotating television tray; home theater system.
Gourmet kitchen: numerous custom-made mahogany cabinets and drawers; solid surface counter tops; stainless steel double sink equipped with Delta faucet, spray and soap dispenser; large gas stove; brand new refrigerator with automatic ice maker.
Master bedroom: custom-made hardwood bed with two nightstands; queen size memory foam mattress; custom-made hardwood chest of drawers.
Den or extra bedroom: two desks with drawers; two office chairs; bookshelves; speakers.
Bathroom: custom-made cedar cabinets, drawers and wardrobe; solid surface counter top; dual basins with Delta faucets; step-up bathtub with hand shower; walk-in shower with massage jets and soap dispenser; energy-saving toilet; three towel rails.
Laundry room: washing-machine; large sink; 65 gallon electric water heater; water pump; pressure tank; cabinets and shelves; three long stainless steel hanging rods.
Large walk-in closet: cabinets, shelves and drawers; two long stainless steel rods; ironing board.
High wood ceilings with recessed lights.
Ceiling fans in main rooms.
Extensive storage.
Numerous electrical outlets.
Attached one-car garage/workshop: electric door; shelves; workbenches; attic; faucet.
Covered front porch.
Screened-in veranda: custom-made wood patio furniture including a dining table, four chairs and a side table.
Garden tool shed: gardening tools; electric meter.
Rain gutter collection system supplemented with a local water network.
14,000 gallon water tank.
Outdoor shower; outdoor sink; two outdoor faucets with hoses; outdoor outlet.
Outdoor solar lights.
Birdbath fountain.
Landscaped yard with colorful flowers, shrubs and trees and fruit trees (coconut and papaya trees).
Outdoor electric wiring available for the building of a swimming pool or gazebo.
Property taxes are only $20.00 USD per year.
Legal Description -
Parcel No. 728
Registration Section: Consejo
Block No: 1
Area: 1,540.7 S.M. or 16,585 Square Feet
Casa Blanca is a unique property in Belize. It could be yours now.
If you have always wanted to own a beautiful house in a sun-drenched place, we invite you to contact us and we'll make your dream come true.
On the roadside of the property, cross the road and take the path to the 4th tee of the 9 hole golf course (free for residents and their guests) or use one of the 4 other dedicated parks for property owners - 3 of those parks on the sea.
What more do you need but your bathing suits, sunscreen and a few clothes and you can enjoy your very own paradise in Consejo Shores in beautiful Belize.
About The Developer: Consejo Shores
Consejo Shores' inception in Belize dates back to 1969, when the development founder, Bill Wildman, decided to direct his efforts towards a residential project in general, and Consejo Shores in particular. Building on his reputation for honesty and integrity, the Wildman name became closely identified in Belize as the person to call when you were searching for real estate. Believe it or not, until 1993, electricity came from a generator not a utility Co. and, in 1999, real fiber optic telephone lines were installed in Consejo Shores. We have seen it all. Consejo Shores Limited's Mission, as Land Developer, is to continue to be the leaders in real estate in Northern Belize by providing friendly, straight-forward, and professional service to our clients. When you are looking for a home or other real estate property, you want your sales representative to have experience, knowledge and a trustworthy reputation to guide you through the process. Consejo Shores Limited is able to provide you those important qualities, along with today's technology, and it's expertise to make fulfilling your needs as effectively and stress-free as possible. We are pleased to offer you: A reputation for excellence and stability, and an almost 50 year history of experience in Real Estate in Belize. Our Location: We're seven miles north of Corozal Town in the most northern part of Belize. It's 15 miles from the Mexican border by road or three miles by boat.
Consejo Shores Limited has recently celebrated their 45th real estate season in Consejo Shores. Our friendly and knowledgeable associates, (along with three generations of the Wildman family) will gladly share information with you.
CONSEJO SHORES presently has over 100 homes. Most residents are full time, but others come to enjoy the pleasant Belize winters. Belize markets itself as being both in Central America and the Caribbean- and for good reason – it has the best of both. Not only is Belize the diving and snorkeling capital of the western hemisphere but it also boats incredible old growth rain forests, rushing rivers, majestic mountains, intricate cave systems and ancient Mayan pyramids. To top it off it is the only ENGLISH speaking democratic country I Central America, a legal system based on British Law and benefit-laden retirement program as well as a broad array of tax incentives for property investors.
The Community:
Established in Belize over 40 years ago by "real estate extraordinaire, surveyor, developer, and adventurer, Bill Wildman", Consejo Shores is the best-established seaside development in Belize. This planned community has waterfront properties, home sites, seafront parks with beach access, and a 9-hole golf course, all within walking distance in this unique tropical residential area. Consejo Shores is located at the northern tip of Belize on Corozal Bay, which divides mainland Belize from the Yucatan Peninsula and Ambergris Caye. All properties are high and dry, averaging 7-8 feet above sea level. Most of the 350 residential lots are in excess of 20,000 sq ft and have been surveyed, with land ownership being absolute Fee Simple Title. Good all-weather roads service the home sites as well as the availability of central water, underground electrical, satellite TV, phone lines, internet and DSL
Consejo Shores community has 1¼ miles of seafront property, with 4 seafront parks, an inter-locking park system, and 100+ established homes. This peaceful, private neighborhood has something to offer everyone. Golfing, disc golfing, fishing, swimming, sailing, wind-surfing, kayaking, bird-watching, biking and walking are available at Consejo Shores; and diving, snorkeling, hiking, caving and Archaeological explorations are available within a short distance.
Consejo Shores is an amiable, safe community situated on the clean, calm, protected Corozal Bay. Sunny outdoor living with moderate, pleasant climate year round. 49" annual rainfall vs. 100"-200 in southern Belize. Close to major "North American" style shopping malls in Chetumal, Mexico. Less insects, with no sand flies, jellyfish or sharks in the Bay due to the low saline content of the water. Ambergris Caye, part of the largest Barrier Reef in the Western Hemisphere, is just 35 miles away, providing some of the best fishing, snorkeling and diving in the world. Ease of transportation: Corozal Airport has frequent daily scheduled flights to all areas of Belize; daily water taxis from Corozal to Ambergris Caye and a bus terminal for access to many destinations in Mexico.
We are located at the northern tip of Belize on Corozal Bay, which divides mainland Belize from the Yucatan Peninsula in Mexico and Ambergris Caye, part of the largest Barrier Reef in the Western Hemisphere (just 35 miles away). Just 7 miles North-East of Corozal Town, Consejo Shores can easily be located by following the only road out of town leading to Consejo Village, Corozal- Consejo Road. The main entrance to the community is on the right side, approximately 1/2 mile before Consejo Village.
Enjoy the views over the Corozal Bay and easy access to world class tarpon Fishing.
The domestic water is provided by natural aquifers and your own private rain water tank.
This property is well elevated above the sea. You will be enchanted with the diversity of natural beauty around to enjoy, variety of birds, butterflies, luscious green vegetation and tropical plants, not to mention the breathtaking view of sunrise as you are awakened by the birds or retiring for the evening to the most beautiful fiery red sunset. This perfect bay offers all the privacy you might need to just swing in your hammock, reading or swimming in the sparkling Caribbean waters.
The property is ideally situated just 6.2 miles from the fast developing town and growing expat community of Corozal Town. It is 30 minutes to Corozal airstrip by car, with San Pedro 20 minutes away by plane from Ranchito Airstrip. The fantastic Chetumal US style Shopping Malls and the new Chetumal International Airport are conveniently 45 minutes by car right across the Belize/Mexico border.