3896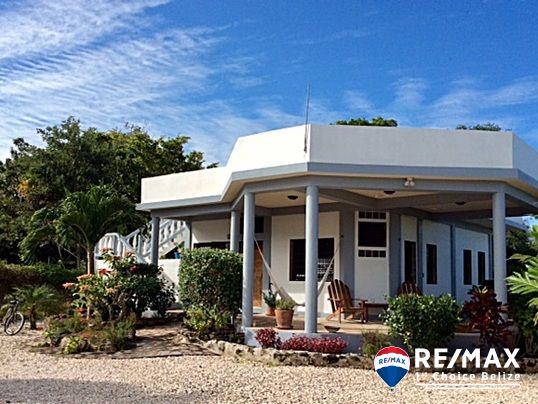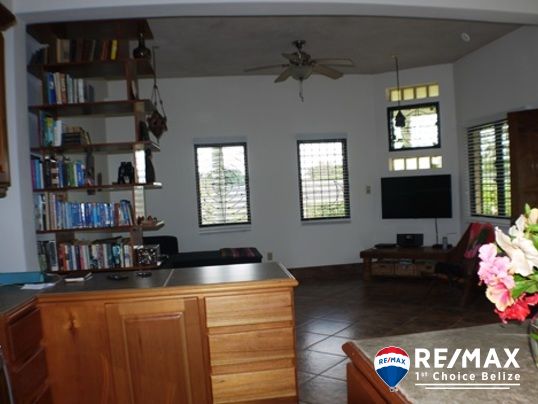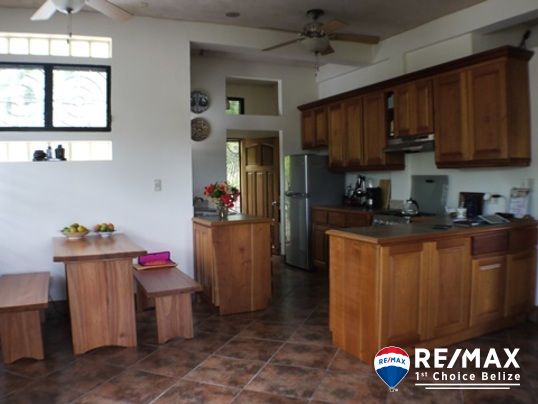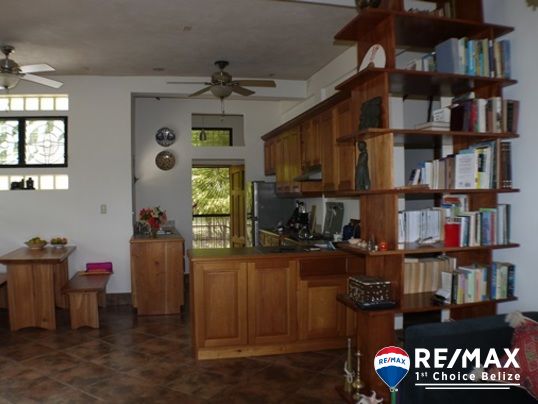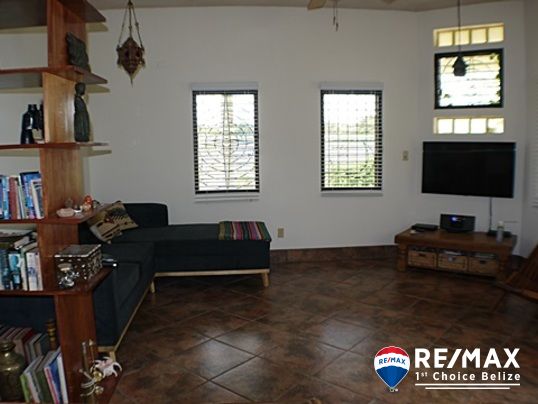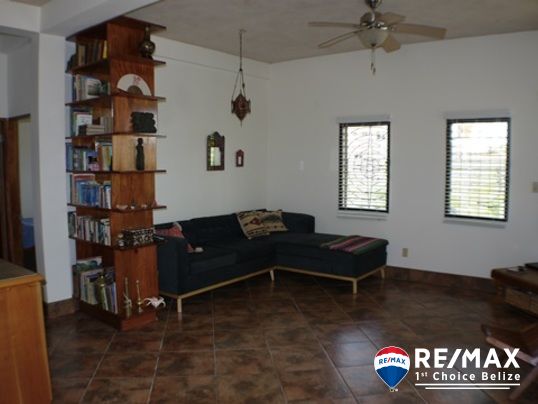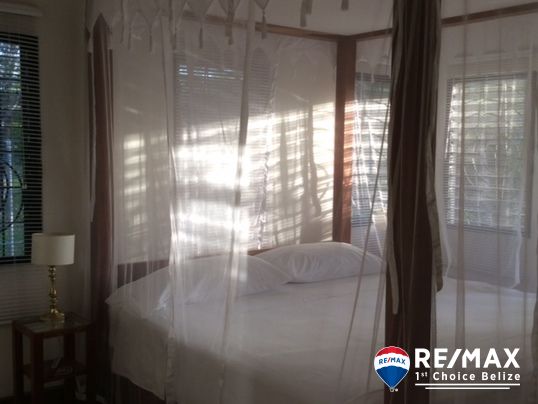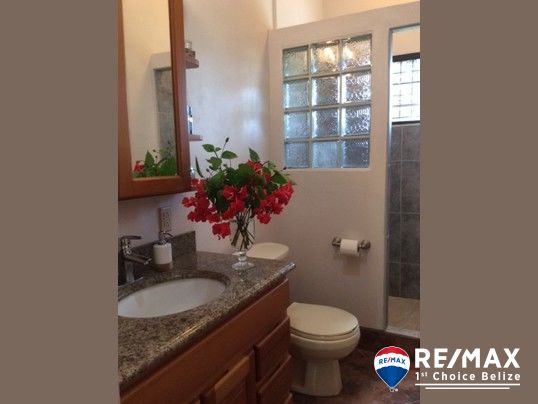 The Property:
THE HOUSE IS APPROXIMATELY 1,200 SQ.FT. OF SPACE WT A 375 Sq.Ft. VERNDA AND AN ADDITIONAL 1,400 SQ.FT. FOR FUTURE EXPANSION OF A PENTHOUSE OR EXTRA ROOM ON THE ROOF TERRACE. CUSTOM BUILT KITCHEN OF SOLID MAHOGANY BELIZEAN HARDWOOD. Main entrance solid door is hand carved. All interior finishes form Belizean hardwoods. The floor through-out is tiled.
Situated on the South End of Corozal Town on Ferry Road, this property has full access to the Corozal Bay. It is a quiet area of Corozal Town; 1/3 of the lot is fully fenced by metal/chain link combination fence with a hand crafted metal sliding gate. The entrance is well appointed for parking. Mature graceful trees dot the front and back yards to this beautiful property. There is lots of extra space for a second home or development. This allows for a caretakers unit, rental or guest house that can easily feel separate and private with its own access and parking if desired.
Main Building:
The layout of the building provides for great cross ventilation and optimizes the Caribbean Sea breezes. There are hook-ups for air condition units in the bedrooms and great room. The First Floor opens on to a large porch that faces the sea and overlooks the beautifully landscaped yard.
The interior layout has 2 bedroom downstairs, 2 bathrooms, a kitchen, living room and an access stairway to the second floor deck. The first floor layout is approximately 1,200 Sq. Ft. with an additional 375 Sq. Ft of covered veranda and approximately 1,200 Sq. Ft. on the second floor roof terrace. This upper deck would be ideal for a penthouse or second floor addition. Plenty of storage area is provided in the first floor layout and is accessible from the outside. External storage room is 120 Sq. Ft. The porch overlooks the Caribbean Sea. There are many windows throughout with artistic burglar bars and doors.
The roof terrace allows for enjoying evening sea breezes and cooling "off" with exotic views of the savannah.
All windows are louvered glass. Doors are solid mahogany.
Elevated from street level and set away from the street, the house is built on pristine Maya soil, allowing generous room to expand or build more units within the ample grounds.
Legal Description:
Registration Section: Carolina/Calcutta
Block: 1
Area: 1,839.789 S.M.
Services:
Water: City Water installed
Electricity: Belize Electricity Limited
Internet: Can be installed at buyer's expense
TV: Can be installed at buyer's expense
Skype: Via internet
Sewer: Septic System – Self Digestive
Enjoy the natural Belizean views.
This property is well elevated above the sea.
Community Features and Infrastructure - Living in Belize
AARP LIKES COROZAL IN BELIZE AS TOP RETIREMENT DESTINATION (read article August 11, 2010) Association of American Retirement People Magazine
Coming into Belize by road through Mexico gives you the splendid opportunity to enter the small metropolis that is Belize's northernmost district - Corozal. Traditionally the heart of the country's sugar growing and processing industry, Corozal today is also well-known for its Free Zone, sprawling housing development favored by expats and low cost of living.
Corozal Town continues to be a convenient base for day trips to Chetumal, the capital of Mexico's southern state of Quintana Roo which is nine miles away, or for excursions to the Mayan ruins and beaches of the Yucatan Peninsula.

San Pedro Ambergris Caye, Belize' most popular destination for scuba divers and snorkelers, is only 20 minutes by air from the Corozal airstrip. It's 90 miles from Belize City to Corozal by air, a comfortable two-hour ride by road; buses run daily. Corozal is located between two scenic rivers, the New River and Rio Hondo, with its fair share of Maya ruins, snorkeling, swimming and fly fishing attractions.

Corozal - Best Retirement Destination

Corozal is Belize's fourth largest populated district, with 20,335 residents. and home to a growing community of North American and European retirees. In 2010 the American Association of Retired Persons, the AARP, ranked Corozal a top retirement destination. The article describes Corozal:

"Squeezed between Mexico's Yucatan coast and Guatemala to the south, sparsely populated Belize is a Central American paradise, with tropical jungle flora, endless white beaches, an aquamarine Caribbean sea, some of the world's best reefs for snorkelers, world-class fishing, Mayan ruins, and even casinos.

"Most expats settle either on the largest island, Ambergris Caye, Placencia or in the Corozal District on the mainland's northern tip. Ambergris Caye has the up- scale restaurants and condos, including million-dollar properties. It can be as expensive as South Florida (Leonardo Di Caprio bought an island west of Ambergris Caye).

"The Corozal district, a few miles' drive from the Mexican border, is far more affordable. Corozal expats live a laid-back life, with year-round outdoor play (boating, hiking, swimming, diving), but are still only minutes from the malls and cineplexes of Chetumal, the capital of the Mexican state of Quintana Roo."
Another interesting view of Corozal comes from an American retiree who now calls Corozal home.

He writes: "When we first visited Corozal in May 1998, my wife decided that she wanted to live here. It was hot and dry in May, and the town was in the economic doldrums, but we still loved it. The bay front reminded me of Santa Monica. Corozal is a sleepy little 3rd-world town, vaguely reminiscent of a small Mexican border town like Naco or Aqua Prietta on the Arizona-Mexico border. The cars are mostly used, the roads are mostly beat-up, and the town generally looks like it could use a coat of paint.' (Contribute
Description: Getting There:
Corozal is easy to reach by road or by air. From Belize City it is a two-hour drive. Belize's domestic airlines offer flights daily between Corozal, San Pedro and Belize City. If you are traveling overland from Mexico you can cross the border by bus or car to reach Corozal. Car rentals and bus service are both available, however, most lodges provide transfer service and can pick up visitors from anywhere in Belize.
Corozal:
Explore Corozal, the northern-most district of Belize. Beyond the emerald green waters of the bay, Corozal has much to offer. Four thousand years ago during the Maya Pre-classic periods, Corozal was an important seaport ruled by the Maya Cacique, Na Chan Kan. It survived the Mayan civilization's decline and the European conquest of the new world. In the 1800's, Corozal became home to refugees of the Yucatan's Caste Wars. Then, as now, people have found peace, tranquility and relaxation in Corozal. The Corozal Free Zone is one of the newest attractions in the area for those seeking opportunities in business and industry.
The rich history and people (Mayan, Mestizo, East Indian, Chinese, Creole, and Garifuna) make Corozal an interesting place, of great diversity and culture. From Corozal Town the main center if activity in the district, you can visit fascinating Maya villages, rich culture, rivers and waterways teeming with wildlife and the enchanting Corozal Bay, a sanctuary for manatees with inviting waters for swimming, sailing and other water sports. For those who want to enjoy the beauty of Belize and its rich, diverse culture, come to Corozal.
Do It All From Corozal
Imagine spending the morning discovering the ancient civilization of the Maya and the Santa Rita and Cerros. Temples, ball courts and some mounds have been covered with jungle growth for centuries. Listen to the sounds of the birds and feel the mystery of this sacred land as you walk through the trails. The afternoon offers many options. Take a boat ride along the New River, Rio Hondo and wetlands to experience the flora and fauna of the district, including crocodiles, ocelots, manatees and birds. Go further and marvel at the beds of water lilies on the lagoon. On your way back explore the banks of the river for tropical plants and the delicate orchids that hang from the trees. You may choose to visit one of the many Maya villages nearby where traditions are still alive or join a local fiesta.
Other House in Corozal, Belize
in price range of $175K-$250K
| ID | Title | Price | Status |
| --- | --- | --- | --- |
| B4019 | Home and Business near the beach | $250K | Reduced |
| H2407 | Orchid Bay Corozal | $225K | Active |