252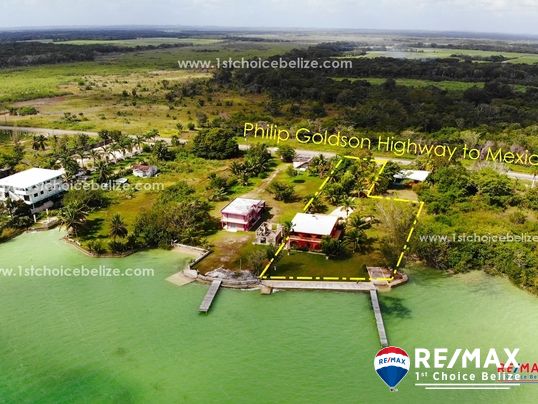 "WATER FRONT HOUSE - MOVE IN CONDITION" – Caribbean Cultuer & Lifestyle Living - Manatee Shallows is a serene retreat on Four Mile Lagoon. Caribbean Culture and Lifestyle Living. Experience the Caribbean the way nature intended.
Relax, rejuvenate and revive your spirit in this exquisite property with spectacular Lagoon views in a beautiful environment.
House Highlights:
This amazing property is two storey, open concept with gorgeous views of the Four Mile Lagoon, with spectacular sunrises to the east and sunsets to the west.
The FIRST FLOOR has a soaring ceiling with exposed rafters, centered skylight, and is divided into 3 bedrooms: two guest bedrooms and ensuite master bedroom with walk-in closet and shower in the bathroom. Second and third bedrooms have built in closets with storage over them. The 2nd bathroom has shower with bathtub. The kitchen faces the east with spectacular views of the front yard and lagoon. The kitchen cabinets as are all cabinets are built of cedar with pot drawers, cupboard, overhead cabinets and dining area for seating 6 persons. Wooden bookcase.
Covered veranda with spectacular views of the lagoon and an even larger open patio terrace at the rear for entertainment. A pantry, dining area, living room, upper interior mahogany stairway access to ground floor complete the first floor living space.
The inviting GROUND FLOOR consists of a full bathroom, bedroom, high ceiling with more exposed rafters, kitchenette with wooden cupboard and cabinets, sitting area with dining table, large office space (which can be converted into a bedroom) with closet. Large laundry space with water pump equipment. interior mahogany wooden stairway that gives direct access to the first floor. It consists of a large enclosed garage with pull down curtains and open double carport under the rear of the veranda. There is enough room for a boat and two cars. Access from a large covered veranda with spectacular views of the lagoon.
The main exterior doors are solid mahogany wood,. Glass louver windows provide perfect cross breeze throughout the entire house and fitted with hurricane shutters. Plenty of ceiling fans through the house provide proper air circulation. The house has plenty of natural light from the louver windows through out. The anti-slip tiles cover all indoor floors and outdoor verandas and patio.

The main upper floor measures approximately 1,600 sq.ft, upper veranda 320 sq.ft., rear patio 648 sq.ft., first floor measures 632 sq.ft., lower veranda 320 sq.ft., carport 648 sq.ft. The outdoor patios, veranda and carport measure approximately 1,936 sq.ft.. The lower and upper levels measure a total of 2,232 square feet for a grand total of 4,168 Square Feet. It comes fully furnished in "Turn key or move in ready". The property is entirely fenced with remote control open and close gate. The list of furniture and other inclusions is available to the Buyer.
A detached structure (Pump House) measuring 48 sq.ft is utilized for the water pump with filtration, chlorinator system and other storage.
Home Features:
• Remote Control Access to security gate
• Cable TV and Internet via fiber optics line
• Reinforced concrete construction including poured, reinforced
upper deck and patio
• Roof is made of mahogany wooden rafters covered with polystyrene insulation and galvanized metal Sheeting
• High vaulted ceiling on upper floor with 4' x 4' Skylight
• 1 veranda and a large patio terrace on First Floor
• 1 veranda, carport, workshop and laundry on Ground Floor
• 2 bedrooms with master bedroom can accommodate king size bed, 2 full baths on First Floor
• Open floor plan features dining room, kitchen, living room
• Anti slip ceramic tiles throughout the house
• Abundant storage space (kitchen cabinets/large pot drawers) and pantry
• All interior doors and staircase are handcrafted from Belizean
Mahogany Wood
• Included furniture is handcrafted
• Hurricane shutters on all windows and doors with one key required for all locks
• 1 bedroom, 1 bath, large office, closet, laundry, two car garage and workshop on ground floor
• Ground floor has potential for future rental income: Approximately $550US per month
• 2 electric hot water heaters
• Mature, professionally maintained landscaping includes palm trees,
an abundance of orchids, coconut palms, pine trees, along with two varieties of mango trees, Belizean blackberry tree, flowering plants and shrubs that attract birds and butterflies year round
• Bermuda grass on front and back yards
• Pier and reinforced concrete sea-wall.
• Concrete boat ramp
• Driveway
• Entire house on deep well water and rainwater cistern 11' x 11' base
House Area:
• Upper floor - 1,600 sq. ft..
• Lower floor - 648 sq. ft.
• Patios & veranda - 1,288 q. ft.
• Carport - 648 sq. ft.
• Total – 4,168 sq. ft.
• Pump House - 48 sq. ft.

Property Highlights:
·
• 125 feet of Water Front with pier and seawall
• Boating, kayaking, fishing and swimming
• 3/4 Acre Lot
• A few minutes drive to the Chetumal, Mexico border
• Approximately 5.8 miles from downtown Corozal
• The property is not rectangular. It measures 125 feet along Four Mile Lagoon – On the northeast 169.78 feet – On the southeast 125.97 – On the Southwest 353.47 – On the Northwest 65.65 feet
Notes:
• Municipal Property taxes are approximately US$5.00 per year
• Hurricane and Fire Insurance $1,063.65USD
• Features are believed to be accurate
• Buyer should verify to their satisfaction
• Price subject to change without notice·
• Closing costs , including stamp duty are the responsibility of the Buyer