698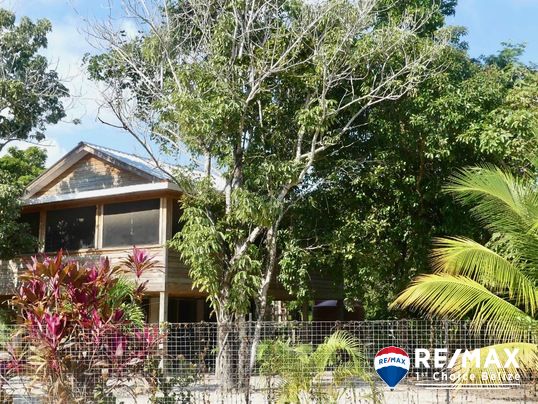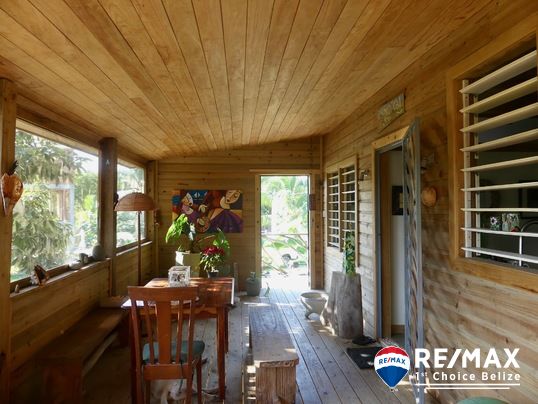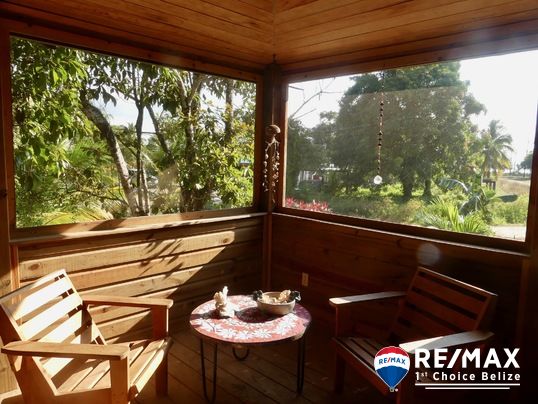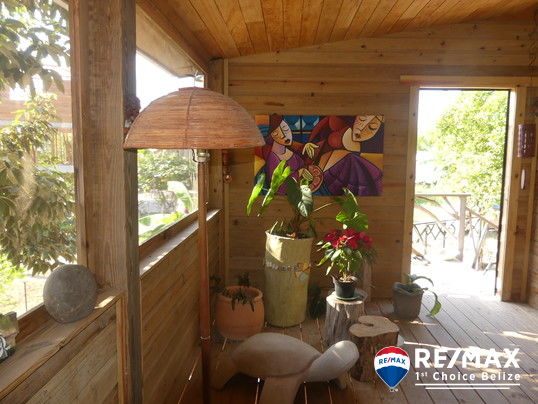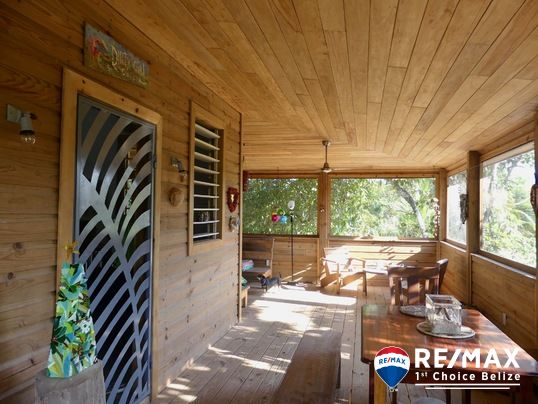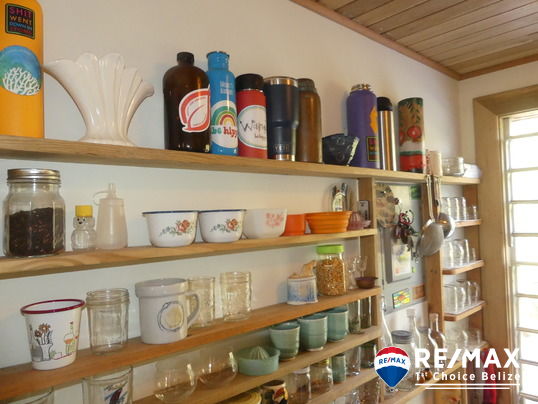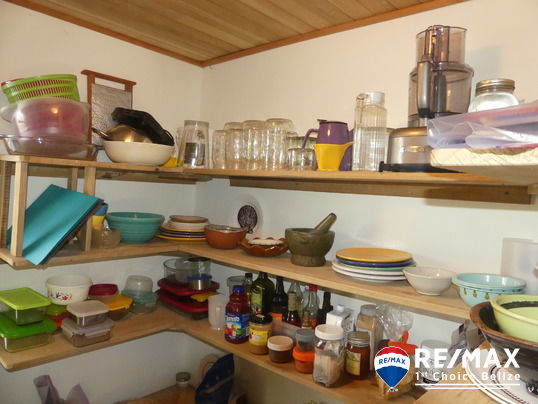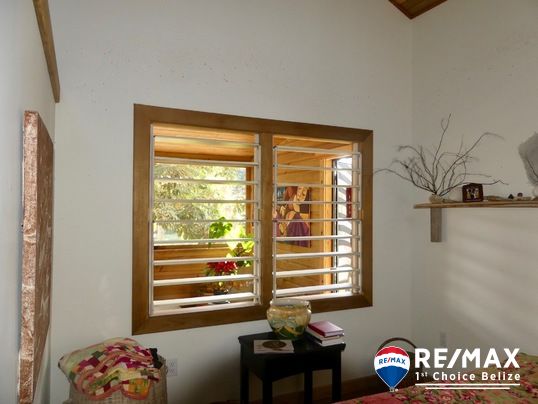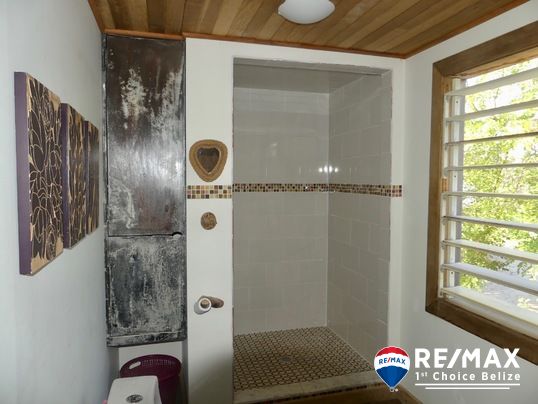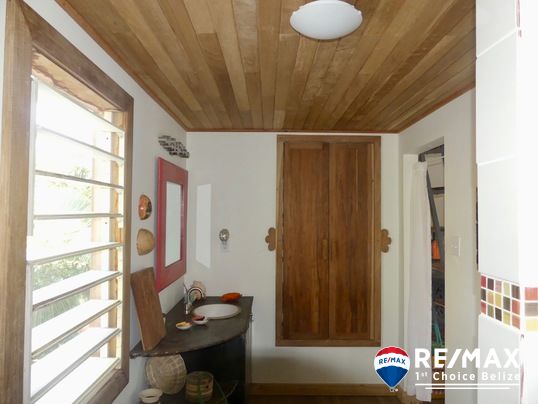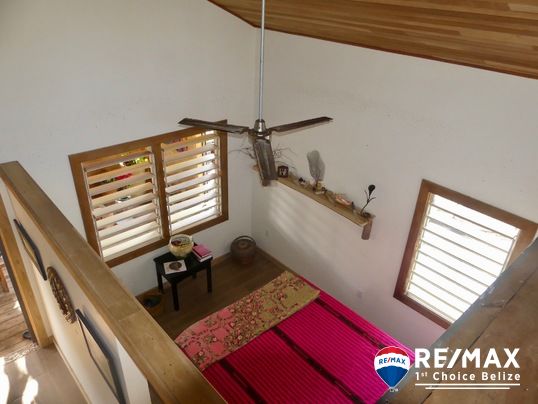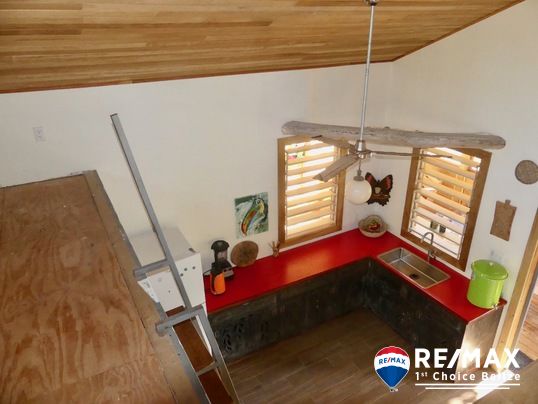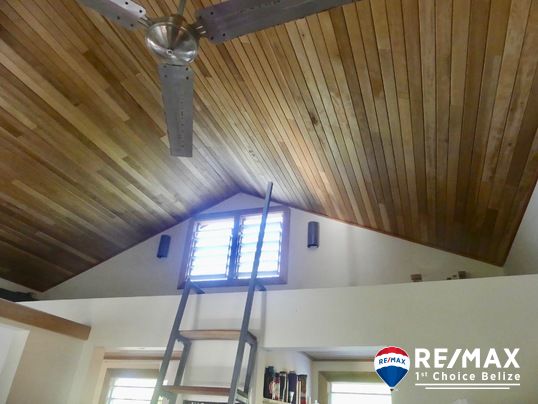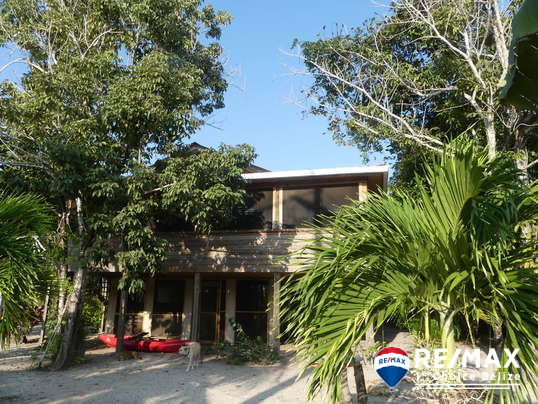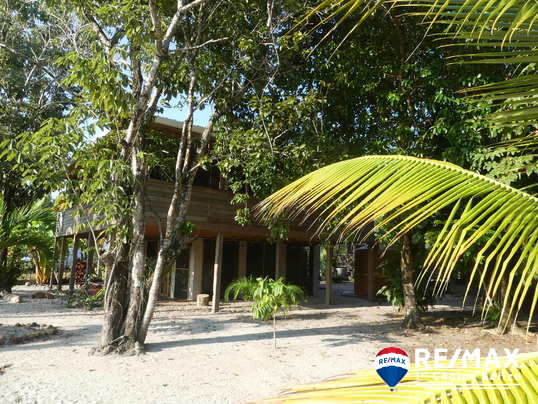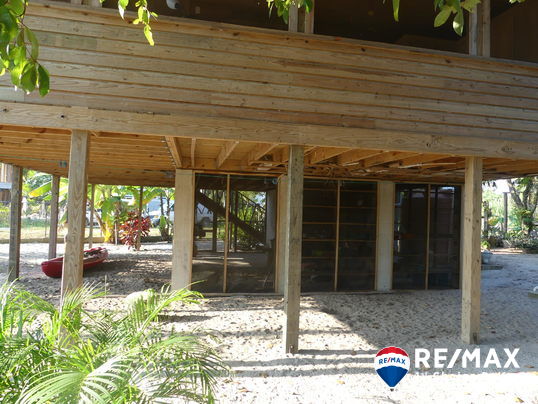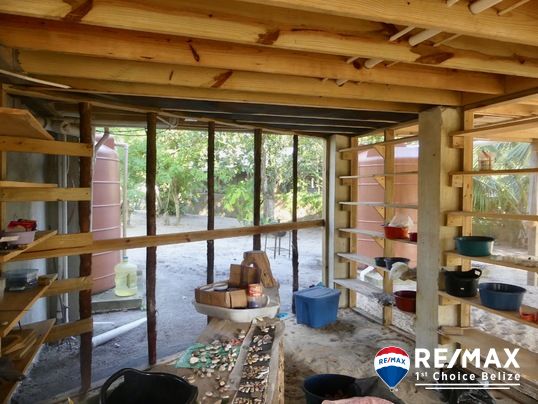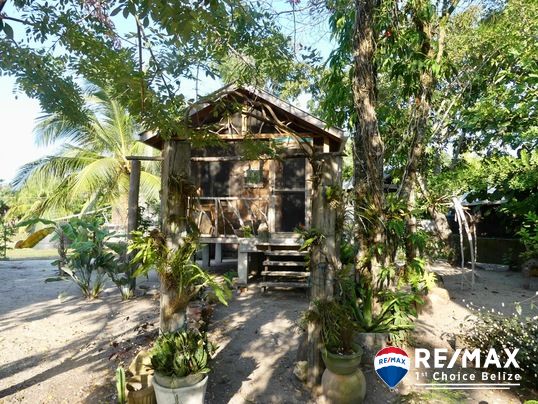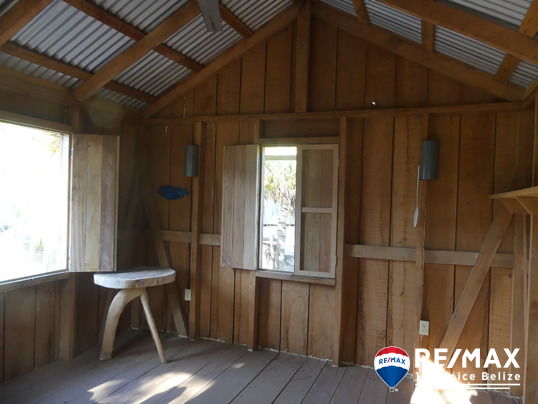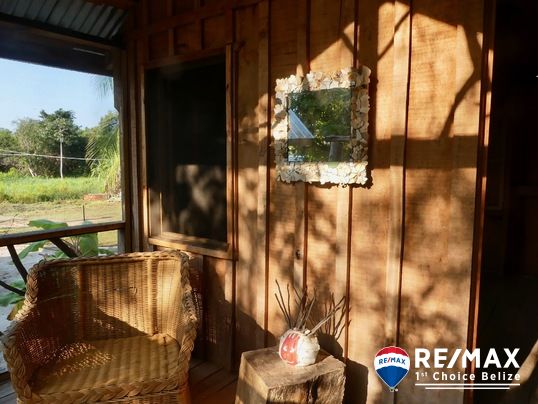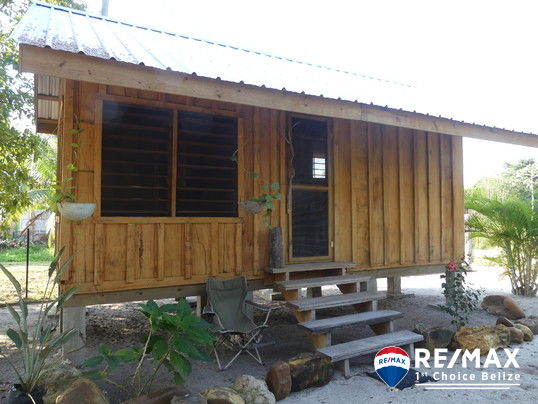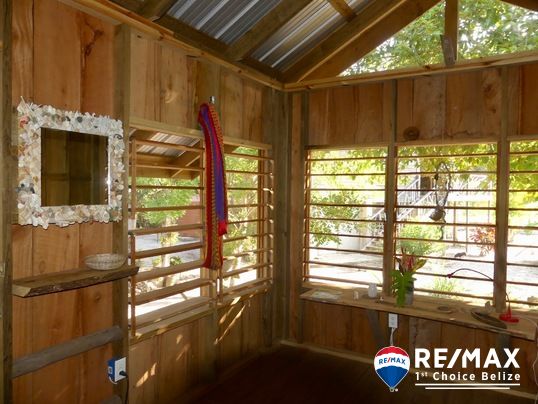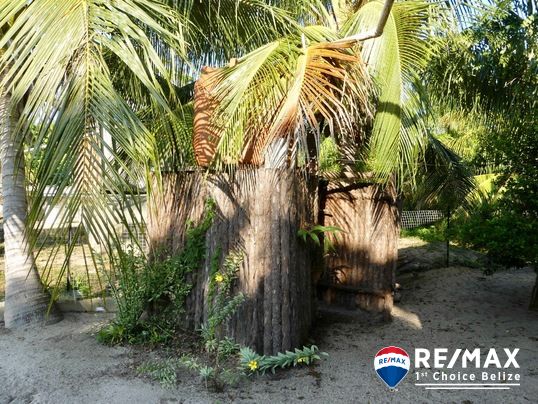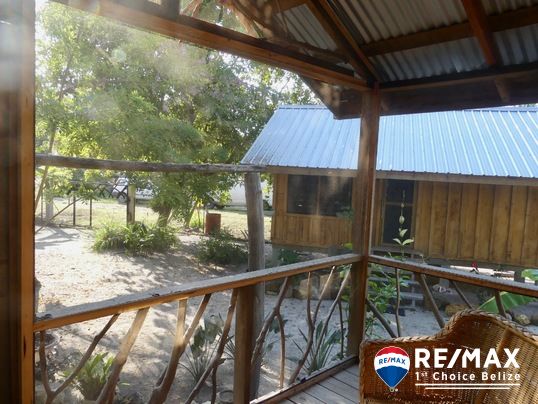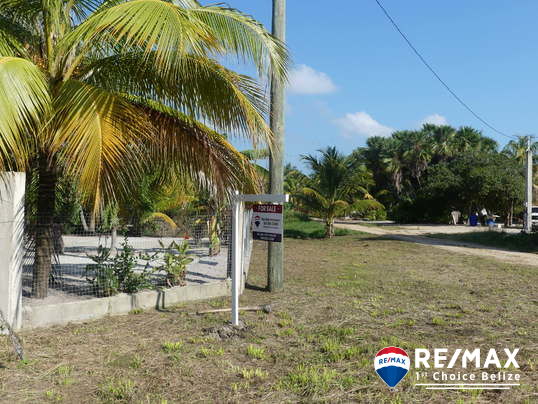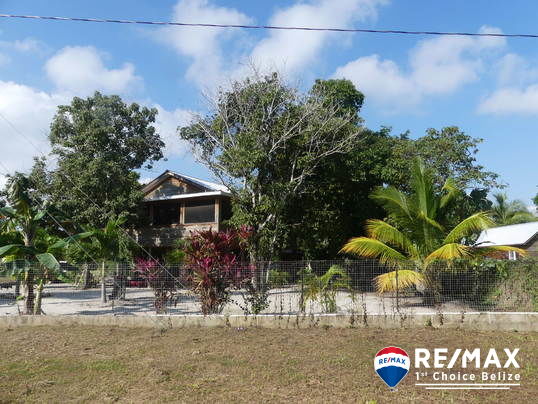 RE/MAX 1st Choice Belize is pleased to announce the Exclusive listing of this Tropical Retreat in Riversdale. Enjoy the openness of this 1 Bedroom/1 Bath Home with a large wrap-around screened-in porch. In addition to the Main house are two 1 Bedroom Cabanas surrounded by trees and sculptured gardens.
The main home has a total of 1,920 sq. ft. The upper floor of the house has 960 sq. ft of inside/outside living space. There is 480 sq. ft of inside living space with 1 Bedroom, 1 Bath, Walk-in Pantry, Kitchen and a loft. Walk out onto the spacious screened-in porch which provides an additional 480 sq. ft of living space. This home has many custom features throughout and provides the new owners with plenty of storage and room to enjoy the Tropical Oasis that surrounds this home. Enjoy cooling sea breezes and Caribbean Sea Views as the beach is only about 300 ft to the East.
The main level of the main home has a screened-in 380 sq. ft Workspace (currently being used as Artist Studio) and Kitchen, a 100 sq. ft concrete laundry and storage room and open space of 480 sq. ft that can easily be made into another room.
There are two new cabanas on the property that have been beautifully landscaped into the grounds which provide additional guest bedroom spaces. These cabanas could easily be converted to add a bathroom and living space. Cabana 1 has a total of 144 sq. ft and has an attached screened-in porch. Cabana 2 was just built in late 2019 and is 200 square ft. Both are made of local Belizean hardwood called Santa Maria.
The yard is completely fenced and has a wrought iron gate. The owner has completely landscaped the yard with Palms, Ornamental and Fruit Trees as well as Orchids and many other flowering plants.
This property comes unfurnished so you can put your own personal touches into your new living spaces. The community of Riversdale is on the north end of the Peninsula and is a nice mix of Belizeans and Expats and within walking distance is a beach resort and restaurant. Living in Riversdale provides its residents with only a 15-minute ride to the Southern Highway which is home to many waterfalls, hiking trails, and Mayan Ruins. Maya Beach is only a 15-minute ride to the South where there are many restaurants, resorts, and shops.
If you are ready to retire and lead the simple life this is the place for you. For more information or to arrange for a tour of this property please email Marsha Peterson at marsha@1stchoicebelize.com
Other House in Placencia, Belize
in price range of $250K-$350K
| ID | Title | Price | Status |
| --- | --- | --- | --- |
| H6533 | Income Producing Newly Built House on the Lagoon Near Harbor Place | $325K | Active |
| H9033 | REDUCED ! Tucan Lu Lu Sea View Villas | $299K | Active |
| H6555 | 3 Bedroom 2 Bathroom Newly Remodeled House on Water Across from Los Porticos in Village | $299K | Active |
| H9048 | Sea View Home in Caribbean Way | $259K | Active |
| H9008 | Maya Beach Home | $299K | Active |
| H8378 | 4 Bedroom Duplex on Canal | $299K | Active |
| H6587 | 2 Bedroom Home with Canal Access | $285K | Active |
| H6416 | Price Reduction - Bamboo Home with Lagoon View in Maya Beach | $299K | Active |
| H9066 | Caribbean Homestead with rental income. | $349K | Pending |
| H9002 | PRICE REDUCED ! Waterfront Home. 4 Bedrooms, 2 Bathrooms. Sea & Lagoon available ! | $315K | Sold |
| H4011 | Beach oasis up for grabs | $299K | Sold |
| H6457 | Tropical Oasis 3 Bedroom 3 Bath Home minutes to Placencia Village | $285K | Reduced |
| B4002 | Income Generator in Maya Beach | $265K | Active |
| H5008 | Stunning Waterfront Views on the Lagoon | $325K | Active |
| B4008 | Home and Business | $328K | Reduced |
| H6100 | Create a Restaurant and LIVE on site! | $349K | Reduced |
| H6465 | Beachview Home in Riversdale | $289K | Active |