2999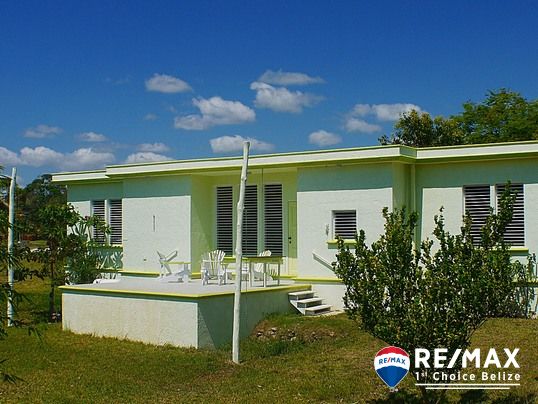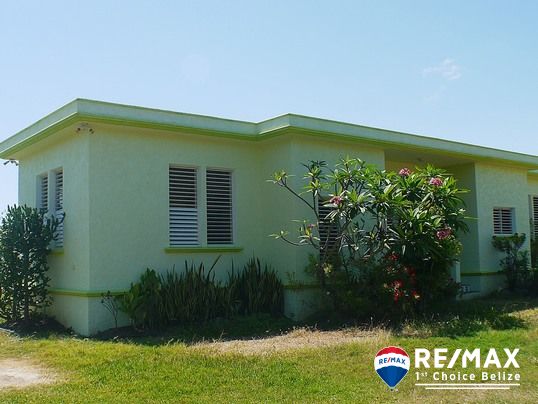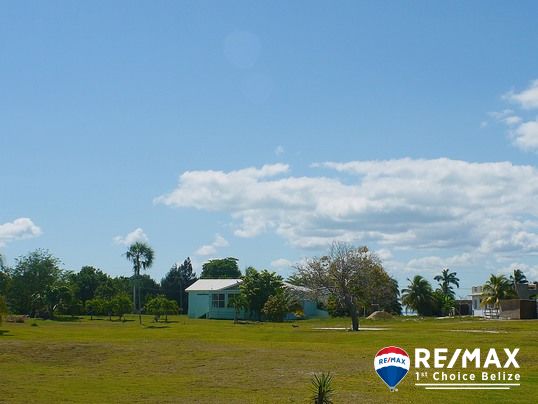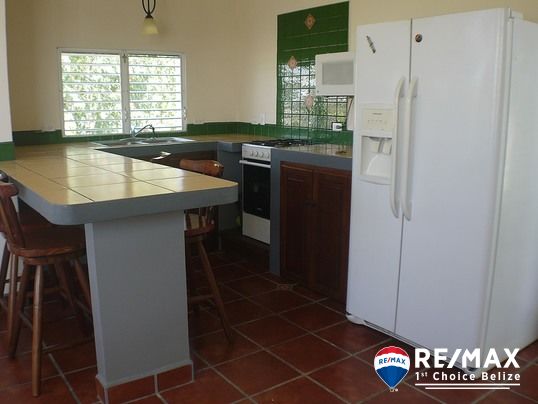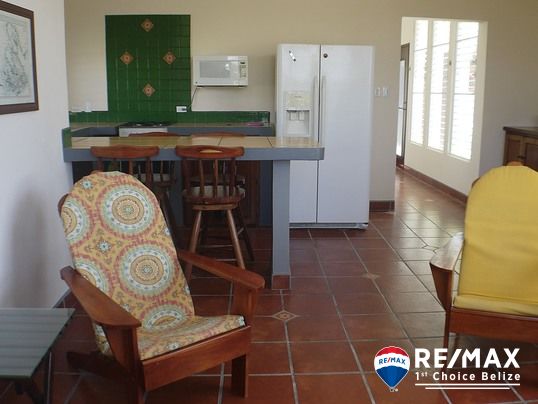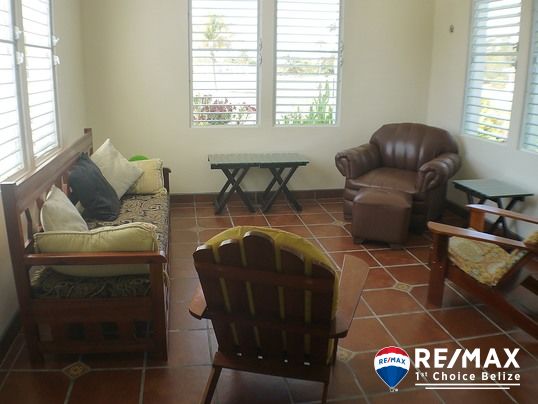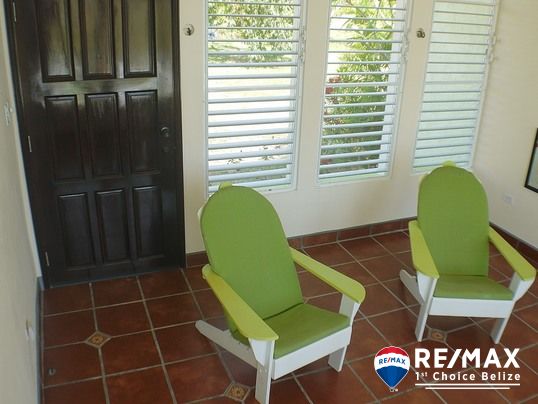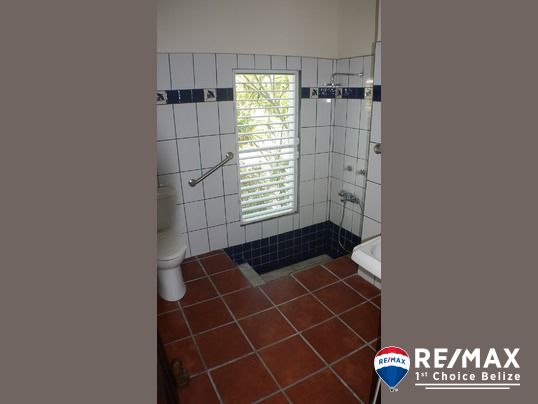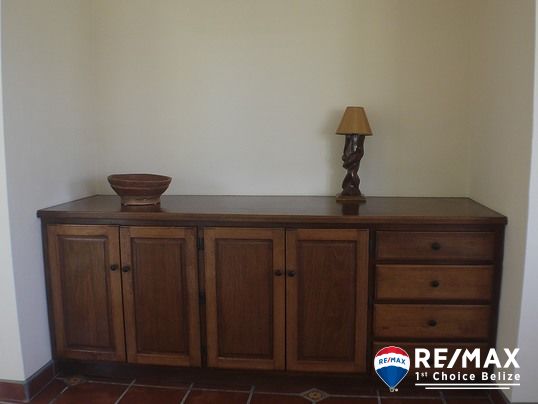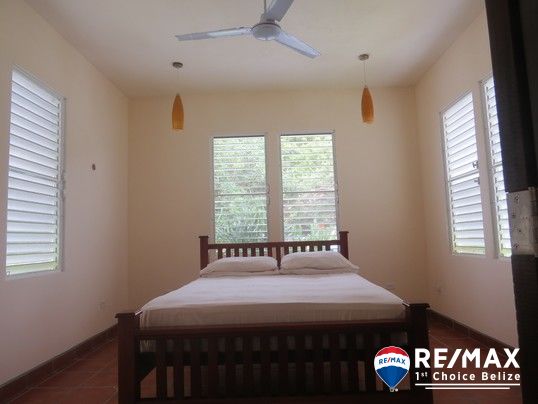 The Property:-
NICE SINGLE BEDROOM HOUSE. The "Andrew House" Golf Course View is situated looking out over the Consejo Shores Community Recreational Golf Course, this home's architectural design is specifically intended to maximize the cooling Caribbean breezes and fairway views.
Well-known Australian architect, "Andrew Minter" and his wife Trina sketched the design of this tropical house as a gift to the present owner. It consists of 1 single bedroom, centre living room with front and rear access, kitchen, living & 1 bathroom. Closet/utility room across from the bathroom with built in shelving and hangar for storage.
The home has an atmosphere of efficiency of space and enjoyment of the outdoors. All rooms have large windows to enhance air-flow for comfort and dryness, with the main living area opening onto a large raised deck - perfect for enjoying the outdoor setting and balmy weather. The house comprises of 900 square feet under roof.
The kitchen has ample food preparation and dining space with bar seating for four people. The bathroom has a Turkish bath with a rain shower spray; no curtain or enclosure needed.
Many varieties of limes, oranges and other fruit trees decorate the yard of this unique; affordable 4-year-old property.
The owner is taking many fond memories of this place as he leaves to begin traveling to other areas in Belize.
Legal Description of the Property:-
Registration Section: Consejo
Parcel Number: 771
Block Number: 1
Size: 1,564.4 Square Metres
Note: *Some protective covenants and fees apply.
Clean air, water, and soil
A sustainable lifestyle and tranquil environment
Lush vegetation, colourful birds and amazing butterflies
Tropical fruits can be grown in your own yard - banana, citrus, papaya, coconut, noni, breadfruit, pitaya (dragon fruit), and more
Access to three seafront parks and inter-connecting park system w/coastal access
Access to Consejo Shores 9-hole recreational golf course
Low rainfall (average 50" annually)
Annual real estate taxes approximately US$18
Easy access to Ambergris Caye (and the 2nd largest Barrier Reef in the world) via boat or plane from Corozal
Absolute Fee Simple Title land ownership
Good all-weather roads
Availability of high-speed internet and satellite TV
Low annual fee for upkeep of community parks and roads (currently US$150 Annually)
In the Relevant Developed Area of Consejo Shores, there are approximately 273 single family residential parcels. Presently, there are 125+ homes and some under construction. Most residents are full time, but others come to enjoy the pleasant Belize winters. All properties are high and dry, averaging 7-8 feet above sea level. Most of the home sites are approx. 20,000 sq. ft. and have been surveyed, with Absolute Fee Simple Title land ownership. Good all-weather roads service the homes; high-speed internet and satellite TV are available.
There are 3 seafront parks, 9-hole recreational golf course, interconnecting green areas and roads within the Relevant Developed Area (RDA) are maintained by Consejo Shores Parks and Roads Trust Limited (CSPRTL), a non-profit organization established in 2010 to permanently preserve and maintain community parks, roads and other amenities for the use of all Consejo Shores property owners and to represent the interest of CSPRTL members. Monies are raised through annual membership fees ($150. USD for 2019) and fund-raising activities.
Consejo Shores is a private, planned community. An active Parks and Roads Trust is responsible for collecting yearly maintenance fees to keep the parks and roads in proper condition for all the homeowners to enjoy. The Protective Covenants and all agreements included in the purchase package are designed to maintain and enhance the quality/value of our community. Please read them thoroughly. They are available upon request through or real estate office. By becoming a property owner at Consejo Shores, you agree to abide by them.