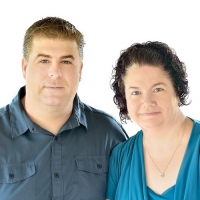 Greetings from the Hrysaks in Sunny Belize!

Like many of our team, our journey did not start out in real estate. Growing up in Canada on the Prairies both of us loved camping, fishing, ice fishing, tobogganing and of course…hockey! It was House Hunters International that first introduced us to Belize and the Hopkins area. In the strange way the world works, we are now friends with the property purchasers from that episode! Liking what we saw we took a Caribbean cruise which included a stop in Belize. In 2014 we came on a fact finding mission and after a month of rain, rain and more rain, we were hooked! After all, as any Canadian knows you go where nobody knows what a snow shovel is and the air doesn't hurt your face!
After relocating in our early 30's, we have been living in Belize full time now for 6 years. Coming from a family business background in Canada, we are proud to own and operate a thriving construction company by the name of Royale International Limited located at the Junction of Hopkins Road and Southern Highway. We have built an amazing team and we are proud to work alongside each and every one of them. In 2017, another strange turn of events led to the inception of Southern Emergency Services, the ambulance service (and future fire service) that we own and operate in the Hopkins area. We are fortunate to have the support of many Canadian organizations that help to keep this service growing. In 2019 we taught the first ever Primary Care Paramedic course in Belize, many of those medics we are now proud to call our employees.
We love Belize, we love our community and we love animals. We are 5 time foster failures with our local humane society so we enjoy a lot of puppy love! With 4 dogs at home and 3 at work there is never a shortage of licks and cuddles. We are huge supporters of our humane society and other organizations like them.
However, enough about us, we want to hear about you! Contact us today, tell us your story and let us help you make Belize your new home away from home.
See you in the Sunshine
The Hrysaks