Flights and Transportation
Be sure your passport is valid for at least 6 months post-departure then book those tickets!
International flights arrive daily at the International Airport in Belize City, Belize. Once the plane arrives in our beautiful country, you will take a relatively easy and quick journey through Customs, paying the Entry Fee of approximately $40 USD. If you are staying in Belize City, there are cabs outside the airport that can take you to your hotel.
Flying to Placencia?
There are 2 commercial, commuter airlines that can fly you to Placencia from the International airport (or the Municipal Airport, also in Belize City, which has cheaper flights but will require cab fare to get there).
Due to Customs requirements, it is best advised to be certain that your international flight will arrive 45 minutes prior to your next flight departing to Placencia.
The airstrip for Placencia is about one mile north of the main village. Let us know when your plane will arrive, we will be pleased to pick you up! Alternatively, check with your hotel or resort about airport transportation – many are happy to pick you up at the airport when you arrive.
Jump aboard the plane for your 35-minute flight and take in the beauty of Belize as you soar over her land, her Caribbean water, sandy beaches… you're almost here!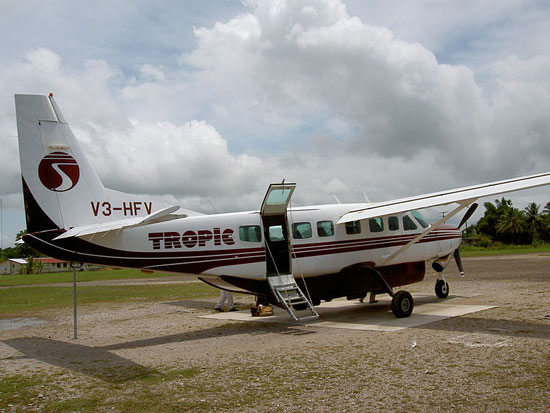 Tropic Air 8 flights daily, 7:50 AM – 5 PM
Maya Island Air 10 flights daily, 8:10 AM – 5 PM
Renting a car?
The journey to Placencia from the airport in Belize City should take 3.5-4 hours. Several rental car companies (major, reliable companies) keep storefronts at the airport if you desire to rent a vehicle for your stay. The road down the peninsula to Placencia is paved now but do try to secure a 4-wheel drive if you want to trek into the jungle during your stay!