Health Insurance in Belize
Posted by David Kafka on 05/04/2015 02:00 PM
Many expats that live in Belize wonder about affordable health insurance. Belize has health centers in nearly every village, that is not an issue; but reliable health service or special care is only found in Belize City which depending on where you live is a few hours drive away.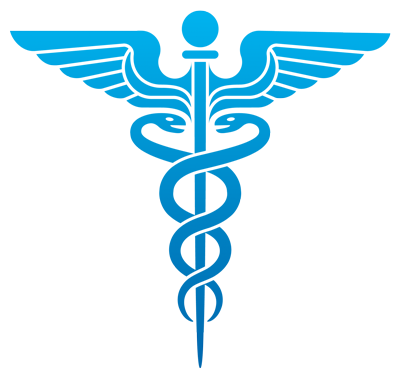 Many expats that live with a long term health condition travel to near Mexico, or back to the USA for health service if money permits.
Can you depend on your health insurance company when living abroad? I had my doubts, so I asked my friend Arno Chrispeels, an insurance advisor what his thoughts where:
"Moving abroad and making the retirement dollar go further; moving the family to a new country to raise kids closer to nature, or starting an entrepreneurial venture in a foreign country are all reasons that people move to Latin America and Belize. Once consideration when moving abroad is getting adequate health insurance, evacuation insurance and the peace of mind that comes with knowing that should you need it, you can go home, or to a nearby center of excellence to seek medical care. Traditional insurers do not offer medical insurance in foreign countries; in addition, they are seldom portable. Some US carriers are not even portable from state to state. There are many different carriers of international insurance."
He has prepared quotes from a few of them for you to look at below.
Let's have a look at a family of 4 from the US ( age 45,40, 13 and 10 ), with US cover included. They can spend up to 3 months in the USA visiting family, tending to business or visting the doctor.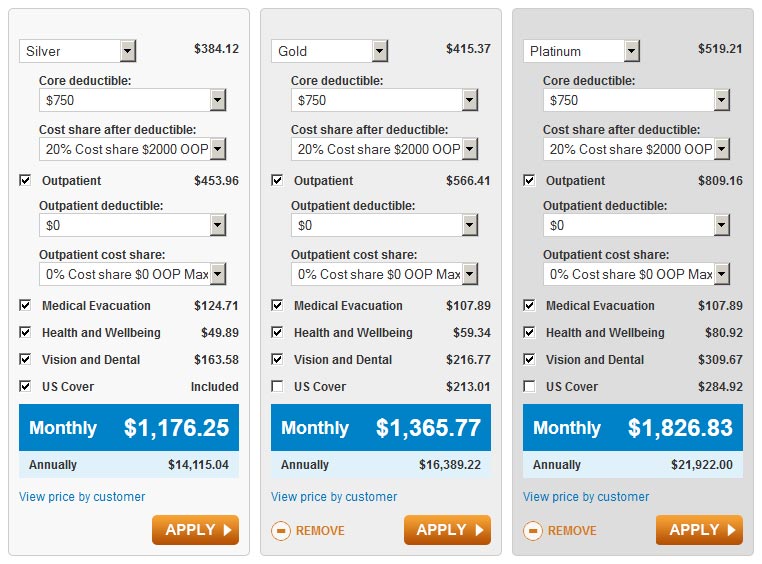 As you can see this quote is highly modifiable. As quoted, it has a low deductible, and a zero deductible for inpatient care. Many clients drop the outpatient care altogether and pay out of pocket for the little things, keeping the insurance with a higher deductible and only for inpatient emergencies and big things. US cover is of course only needed if visiting or seeking medical care in the US. US cover is limited to 3 months total for US citizens, unlimited for citizens of other countries. This can make a plan like this a good deal for a European or even a Belizean family that wants access to US medical services only a short plane ride away.
Here are the Cigna Global Benefits
To Purchase a Cigna Global Plan click here
But maybe this plan does not suit you, so what about an early retired couple in Belize, that still has energy to hike the beautiful mountains of Belize, and swim in the Caribbean Sea?
Well let's say they are 53 and 50 years old from France. No US cover included, as Europeans are more likely to seek medical care in Mexico or back home, but if you look carefully you can see that it can be added on. Unfortunately it doubles the price. Moreover, medical care in the US is very expensive, but costs can again be reduced by increasing the deductible, especially for inpatient care, or also increasing cost sharing.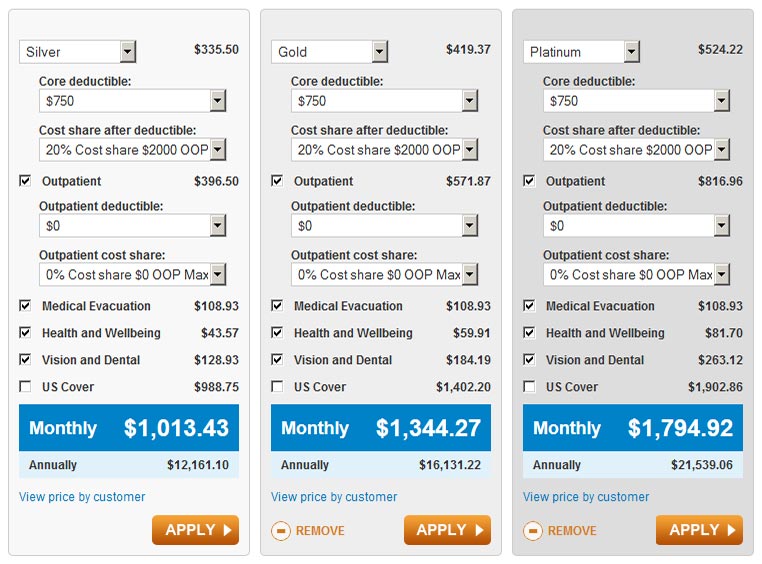 Yet again, if your energy is more in enjoying more calm activities, consider yourself a respected retired person. Then maybe say if you are an older retired couple 65 and 70, from the USA. US cover is not included because at this age US Citizens typically get Medicare coverage should they go home. Once again, costs can be reduced by eliminating outpatient care, almost cutting the cost in half and paying for small things out of pocket and/or enjoying the immediate medical care offered to you in Belize; thus, saving the insurance for those big emergencies, heart attacks, strokes and cancer.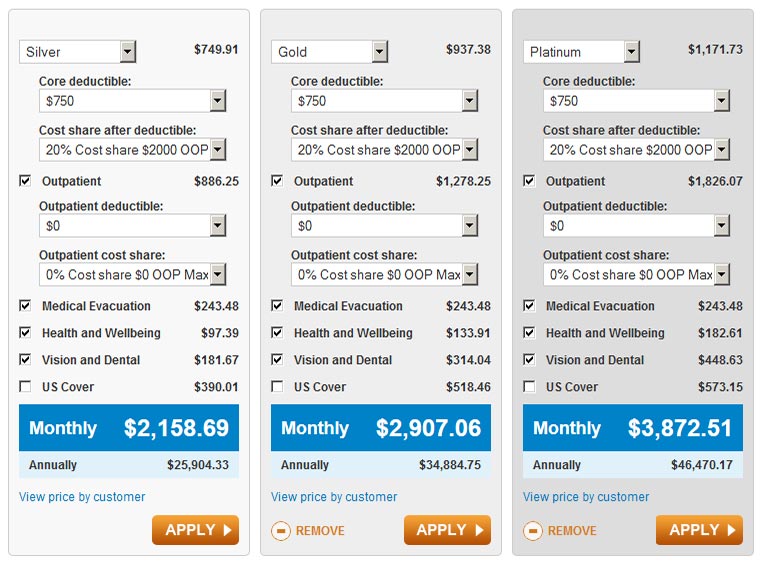 The advantage of using a large Health Insurance Provider like Cigna Global is that their well known throughout the world and they are also more likely to pay directly to the provider, not leaving you holding the bill and filing for reimbursement. While they are my personal favorite, they are out of the price range for some expats.
So let's have a look at two other companies that have similar plans, strategies and prices. The companies are IMG and Seven Corners. They are competitors in what's known as the surplus lines health insurance industry. They are both underwritten by Lloyds of London for the majority of their plans. They both work on the reimbursement model; you pay out of pocket for most medical expenses, and then file a claim to get reimbursed. IMG has been around a long time, Seven Corners has the distinction as the insurer of the Peace Corps.
The drawback to these companies is they are more selective with respect to pre-existing conditions and are more likely to issue "exclusionary riders" to exclude medical conditions that may have happened to you previously. That being said, they have an excellent track record to getting people to safety, helping people get the medical care they need in difficult situations, from jungle evacuations to evacuations off of your sailboat while cruising. They both have very popular plans because of their lower price point.
So then, let's take a look at our previously mentioned, three groups of people.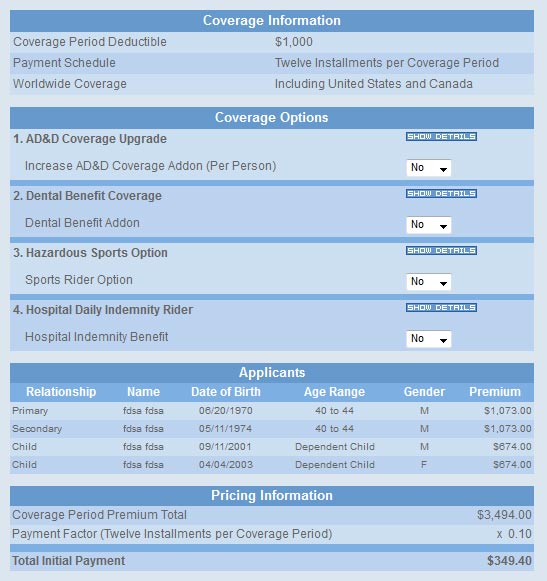 At Seven Corners our family of 4, with up to 6 months of US coverage, a 1000,00 deductible is only 349.00/month. Drop that deductible to 250.00 and it's still an affordable 500.00/month. Adding dental would bring it up to around 650.00/month. The previous plans all had the dental option added as quoted. Seven Corners Benefits
To purchase a Seven Corners Plan check visit this link
IMG has a wider range of options, from their basic Silver plan up to the Platinum, which will cover all pre-existing conditions. (This is contingent upon acceptance by underwriting). As you can see there are many deductible options, similar to the seven corners plans as well. A tip to give in between, if you are a SCUBA diver make sure you pick a Gold plan or higher. The benefits of both plans are similar. IMG Benefits

To purchase an IMG plan click on the link
For you, the middle Aged French/European couple:
Seven Corners: 264.00/month with a 1000.00 deductible; 360 with a 250.00 deductible.
IMG quote looks like this. Very comprobale. I would compare the Seven Corners plan to IMG Gold, but it's best to compare benefits side by side before making a decision.
Finally, for you, the respectable, older couple Chris gives us where and what is covered.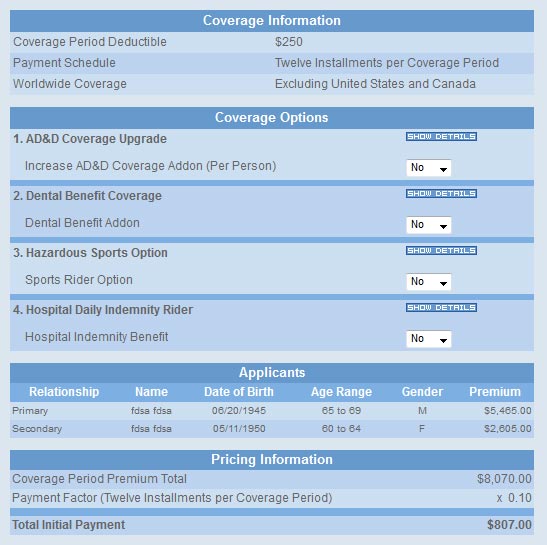 807.00/month with Seven Corners, and a 250.00 deductible. Dropping to 680.00 with a 1000.00 deductible. Higher deductibles are available, up to 5000.00
As you can see with IMG, prices are again similar:

All of the above plans are paid monthly, but are annual plans. IMG and Seven Corners give a 10% discount for paying the whole year up front. Many people are able to go for a long time without any medical coverage and they do just fine, many people never buy homeowners or car insurance either. I think we all know that as we get older our bodies begin to fail us on certain levels; an old football injury now needing surgery, a car accident leaving us debilitated or God forbid, heart disease or cancer. No matter how hard we try to take care of ourselves, everyone needs a doctor eventually.
If you don't have access to high quality medical care you are going to want to seek it in another place, a place where the doctors are certified, or speak your language, or perhaps just where you have family nearby. While I know insurance is expensive, it is a small price to pay for the peace of mind that it provides when living in a foreign country. All of the insurance companies Arno Chrispeels work with cover clients worldwide, providing the best benefits on the market. I encourage every expat to carry some kind of international health and evacuation insurance.
If you have any questions regarding these plans, or any other plans, do not hesitate to email me at david@1stchoicebelize.com